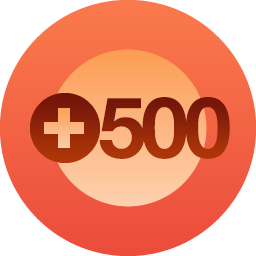 Thank you! Thank you! Thank you! I hit my 500th follower yesterday! It took 2 1/2 years for me to get to 300 followers (I really don't count my first year of blogging) and only 3-4 more months to get to 500. Thanks to HarsH ReaLiTy and Dream Big, Dream Often (click for links to these blogs) I have finally started to learn how to grow my blog. With time and patience it has been paying off. Thanks to all!
I love snow days! Really, I do. I love having my kids home all day. Well, my son had a snow day but because my daughter is in virtual school there are no real snow days. I had a meeting canceled. Then dance class and then music lessons were canceled due to the weather so we had a wonderful whole day at home! All day at home. That does not happen very often for us.
I have slowly been trying to add healthier items to our diet such as brown rice instead of white rice and sweet potatoes instead of white potatoes. I am up to cutting things about 50/50. So, I decided when wanting a side dish to go with our ham dinner that I would make the Gratin 50% sweet potatoes and 50% white potatoes.
I found a recipe on Epicurious.com for Scalloped Yukon Gold and Sweet Potato Gratin with Fresh Herbs. I mostly followed the recipe but had to make a few substitutions as I didn't have fresh herbs in the house and was not going out into the anticipated snow storm to the grocery store.
Verdict:
This dish took a bit of getting used to for the kids but by the time they were through with dinner they liked it. They were anticipating the usual Gratin I made with white potatoes and white cream sauce. The flavor was different so they had to get used to that. My son added a bit of salt and pepper to his and said that made it better.I thought the flavors of the herbs with the cheese were great and can't wait to try it when I have fresh herbs on hand!
I served this with a spiral cut ham, green beans and applesauce.
Sweet Potato and White Potato Gratin
Servings: 6-8
Difficulty: easy
Ingredients:
1 1/2 pounds medium Yukon Gold potatoes
1 1/2 pounds medium red-skinned sweet potatoes (yams)
2 cups heavy whipping cream
1/4 cup (1/2 stick) butter
2 teaspoons powdered garlic
1 teaspoon dried rosemary
1 teaspoon sage
1 teaspoon dried thyme
1 1/2 teaspoons salt
1 teaspoon black pepper
8 oz. Swiss cheese, grated
Directions:
Grease a 13 x 9 casserole pan and preheat the oven to 400 degrees.
Using a mandoline or knife, slice the potatoes into 1/8″ rounds. Soak the potatoes in ice water while slicing to keep potatoes from turning gray.
Once all potatoes are sliced bring cream and butter to a simmer over medium heat in a saucepan.
Mix all spices in a small bowl.
Dry potatoes off with a clean kitchen towel and layer in casserole dish. Layer 1/2 of the potatoes, sprinkle 1/2 of the spices and then 1/2 of the cheese. Repeat layer using remaining ingredients.
Pour cream and butter mixture over entire dish.
Bake covered with aluminum foil for 30 minutes. Uncover and bake an additional 20-25 minutes until potatoes are tender and cheese is browning and bubbly.